The 2022 Subaru Love Promise Community Commitment Award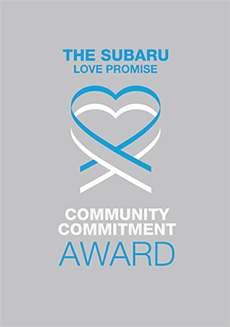 We've been nationally recognized for our dedication to our community and the Subaru Love Promise.
We're honored to receive the 2022 Subaru Love Promise Community Commitment Award. This award nationally recognizes Subaru retailers who are making the world a better place while demonstrating an outstanding commitment to supporting passions and causes in local communities. These efforts are focused in important areas such as the environment, community, health, education, and pets.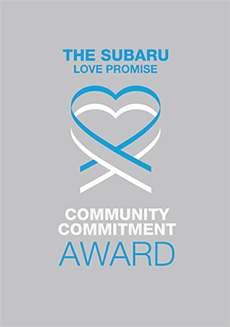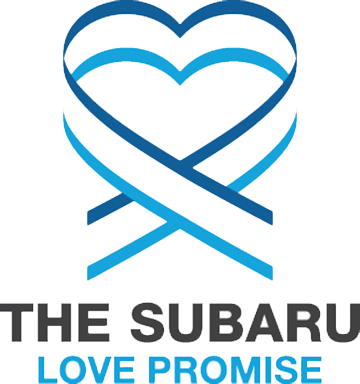 What is the Subaru Love Promise?
Subaru and our retailers believe in making the world a better place and the Subaru Love Promise is our vision of respecting all people. This is our commitment to show love and respect to our customers and to work to make a positive impact in the world.
How is Apple Subaru dedicated locally to the Love Promise?
Our Love Promise can be seen in various partnerships with local charities and non-profits. We're grateful for the opportunity, not only to be a part of our community, but to serve it as well. We believe that who we are is most evident in how we help others.
Love Promise Stories from Apple Subaru
Subaru and Apple Subaru believe in making a positive impact on the communities in which we live and work. We uphold that belief through our Love Promise Community Commitment. Every month, we select inspiring stories from customers and partners from around our area who strive to support our collective commitment and feature them here
York County Food Bank Gratitude - Kelly R
The York County Food Bank is incredibly grateful to Apple Subaru for supporting us through the Share the Love event. Words cannot express our gratitude for being given the opportunity to participate in this program, knowing the impact that the dollars raised will have in feeding our hungry neighbors in York County. In 2021, through our own programs and through our Food Security Network, we distributed 3.6 million healthy meals to seniors, families, and individuals in need all over York County. We did this with the support of 125 volunteers every week who donated over 16,000 hours of their time. We couldn't have done it without those volunteers, our donors, and the hard work of our partners all over the county. With nearly 50,000 people facing food insecurity in York County, this is no small accomplishment. But, there is still a lot more work to do in order to create a Hunger Free York. Because of Apple Subaru's support, the York County Food Bank will be able to provide almost 120,000 meals to those who are hungry in York County. This will be accomplished through our network of collaborative partner agencies throughout York County, in addition to our own drive-thru food distribution, Senior Food Box Program, Give-A-Meal Program, and others.
---
Bell's 2022 Make the Bed Challenge - Melissa M
Apple Subaru continues to be an inspiration as they show their support for organizations, like Bell, in our community. Tony Schweitzer, the Executive Director of Bell Socialization Services, said, 'The Apple Automotive Group has been such a great partner with Bell! For years they have been providing great, supportive work opportunities for some of our service users at Apple Car Wash Express. They allowed one of their key employees to serve on the board of Re-Source York, another work partner of Bell. The month-long sock drive hosted by Apple Subaru in February resulted in a huge donation of socks and blankets that benefited Bell Family Shelter and other Bell programs, too. And now, to have their generous support as the presenting sponsor of our Make the Bed Challenge is wonderful! It is truly a relationship built on, and supportive of, our mission to lift up the wonderful people of York and Adams Counties!" Words cannot express our gratitude and appreciation for the support of Apple Automotive Group, which has proven time and again its dedication to making a difference in our community. Thank you for making a positive impact that empowers lives throughout York County.
---
Aliza's 8th Birthday - Bethany P
PA Caring for K-9's hosted their February 2022 adoption event today at Apple Subaru in York, PA. Below is a blurb about our Live Video found on our Facebook page. Today is a very special day. We are here to celebrate a very special girl in the rescue. 1 year ago, Aliza ended up in a kill shelter with signs of being a bait dog and nasty heartworms. Despite the odds against her, Big Valley Animal Rescue, and specifically her savior Haley saw all the potential in her. Aliza found safety in her foster home. She was treated for heartworm and traveled to PA where she arrived in April of 2021. Her first adoption did not work out as their was another dog in the home, so she despite her humans loving her with all their heart, she came back to foster care. She has beaten heartworm, she has overcome skin infections, and has made many friends along the way. Aliza has attended 10 events with her time in rescue and celebrated several holidays with us. Today we want to celebrate her and have a party for her 8th birthday. So with fosters, friends and family, we are are here to have a party with cake and doggy treats in honor of our amazing Girl. Thank you to all the people who have loved on our baby. Thank you to her foster mommy Patty and her foster sister Cassidy for all the amazing love you have given her over the last ten months. Happy Birthday Aliza Jane! Now for the best part, our baby girl found her forever family today and is off to a wonderful forever. We are so grateful to Apple Subaru and their love for our babies. Our fosters, volunteers, and adopters are always so well taken care of. They are so welcoming and accommodating to our needs. PA Caring for K-9's is so grateful for the connection and first adoption event we hosted there years ago as it has allowed dozens of dogs to be adopted at their events over the years.
---
Apple Subaru Loves to Care - Melissa M
Apple Subaru is an incredible supporter dedicated to making a difference in their community. All month long, Apple Subaru has kindly devoted itself to filling the trunk of a Subaru with new socks, new/gently used comforters, and blankets benefiting families in Bell's Shelter Services. Not only is Apple Subaru collecting donations, but they have partnered with local businesses for "Feel Good Friday" prizes awarded to lucky winners each week. One of the top prizes, an Amazon Echo, donated by Apple Subaru, will be given out when we fill the trunk with donations. This phenomenal "Feel the Love" event ensures that family's experiencing homelessness feel warmth and comfort through these generous donations and outpouring of community love and support. Thank you, Apple Subaru, for the difference you make every day.
---
Keeping Our Community Warm and Cozy - Melissa M
Since Bell's Next Door Program opened its doors in 2017, they have been offering support services and rental assistance to homeless, near homeless, and low-income individuals and families. Next Door serves 2500 people in our community each year. This year Next Door has received 800 referrals, helped 152 families with eviction prevention services, and housed over 80 families who were homeless. Next Door can not do all of this alone. Apple Subaru made a HUGE difference by donating FOUR boxes of warm blankets to Next Door. A blanket is a generous gift that provides a person with warmth and comfort when they are cold or lonely. We are grateful that we can hand these blankets out to our neighbors in need. Hundreds of families in our community who receive these blankets will feel the love. The kind-heartedness of Apple Subaru is keeping our community warm and cozy during these chilly days and nights. Thank you, Apple Subaru for your dedication to our community and the positive impact that you make every day.
---
York County Food Bank - Kelly R
The York County Food Bank is incredibly grateful to Apple Subaru for supporting us through the Share the Love event. 2020 challenged us in ways we never expected. But thanks to our dedicated donors, volunteers, staff, and partners, we conquered the year. We met the increased need for food by: --Opening a second location, our East York Emergency Food Hub --Hosting weekly Drive-Thru Distributions serving up to 2,500 households --Delivering emergency food to those in need --Holding pop-up distributions --Bringing our Mobile Pantry to communities across York County The York County Food Bank distributed 6.5 million pounds of food which equals 5.4 million meals. Additionally, volunteers donated over 20,000 hours to our operations. It was amazing to see such goodness and support from the community, during such a difficult and unsure time in our history.
---
Subaru Loves Dogs Adoption Event - Bethany P
October 16th was PA Caring for K-9's Subaru Loves Dogs Adoption Event. We have had a long standing relationship with Apple Subaru for the love of our dogs. They have been amazing in hosting adoption events 2 times a year (Spring and Fall). This past weekend, we had 16 dogs come to our adoption event! One of our fur babies, Abigail, was adopted! Abigail came from a kill shelter in Alabama. She was set for euthanasia strictly because she was a bulldog mix. She had been at the shelter for weeks with no interest and the shelter was full. Thankfully, a foster was willing to take her in AL until she could travel to PACK9. Abigail was fostered by an awesome foster and hung out with the resident dogs while she waited for her forever family. Her family came straight to the event in order to meet her and just fell in love! MCS Dog Training was present at the event and even gave a free half hour training to her new family! We are so grateful for Apple Subaru for helping facilitate this match.
---
The Paws are Back! - Bethany P
PA Caring for K-9's was able to host their first adoption event at Apple Subaru since the start of the pandemic. PACK9 was able to host their food fundraiser and raise $65 towards the Fencing Fur Fun project. With over 20 volunteers and over 15 dogs, we had a great time spreading the word about the rescue and our mission. Two babies found their forever homes from this adoption event. The team is always so welcoming to our rescue. We cannot wait to be back this fall.
---
Customer Appreciation Day - Douglas A
Saturday June 12th was customer appreciation day at Apple Subaru. We invited all our customers in to enjoy hot dogs, hamburgers, smoked mac and cheese made by Duane "Smoke Boy" Casseday, Beans, chips and drinks. Just a little way for us to show our appreciation and thanks to all of our wonderful customers. Thanks For helping us be who we our Doug Augburn General Manger Apple Subaru
---
A Pandemic Can't Stop The Love - Jennifer K
The Central Pennsylvania Food Bank has seen an outpouring of support from the community that has been incredible. Thousands of generous individuals and companies have helped to Give Hope Now, but our work is far from over. The Food Bank has seen demand for food assistance increase more than 40% in the past year and expects demand to remain at these high levels for the next two years. With a "strong front" to combat hunger, the Food Bank and its more than 1,000 partner agencies and programs provided over 50 million meals this past year. But community support is what gets the job done - volunteering, donating and raising awareness all contribute to addressing food insecurity across Pennsylvania. Thank you Apple Subaru for your generous donation of 106,600 meals to the Central Pennsylvania Food Bank. Together, we can end hunger. https://www.centralpafoodbank.org/
---