******************************************************************************************************
Apple Automotive partners with American Cancer Society to help finish the fight against breast cancer
Your Next Vehicle Purchase Can Make A Difference
York, PA, October 9, 2015 - Apple Automotive is proud to partner with the American Cancer Society and support their Finish The Fight Against Breast Cancer initiative to honor breast cancer survivors, raise awareness, and fund the fight to end the disease forever.
During Breast Cancer Awareness Month, Apple Automotive will make a donation to the American Cancer Society for every new or used vehicle sold in October at any of its ten dealership locations.
Last October, Apple Automotive donated over $14,000 to the American Cancer Society, making it one of Central Pennsylvania's largest contributors to raise breast cancer awareness and financial support to fight breast cancer on all fronts.
"We are grateful to be in a position to raise awareness and money to fight against breast cancer. With the community's help over the last three years, Apple Automotive has been able to donate over $40,000 to the American Cancer Society.", said Matthew A. Kugle, "Supporting the mission to fight breast cancer, as well as all cancers, is near and dear to our hearts as it has affected the lives of many loved ones within our families, company and community. Together, with the community's help, we know we can work towards winning this fight."
To join this fight, start your new or used vehicle search today at any Apple Automotive dealership or at www.appleautomotive.com.
Apple Automotive is the largest family-owned automotive dealer group in Central Pennsylvania. The dealer group now encompasses 15 automobile franchises at 10 different retail locations in York County, Pennsylvania.
In addition, Apple Automotive offers collision repair at seven locations, which includes Pritz Auto Body, provides rental and leasing services at three locations, car wash services at two primary locations, parts distribution at three locations, and service and repair at 10 locations. For more information, visit www.appleautomotive.com.
Making Strides Against Breast Cancer is the largest network of breast cancer awareness events in the nation, uniting nearly 300 communities to honor breast cancer survivors, raise awareness, and fund the fight to end the disease forever through a noncompetitive 3- to 5-mile event. This event also supports the American Cancer Society's unique mission to fight breast cancer on all fronts and save lives by helping people stay well by reducing breast cancer risk or finding it early; helping people get well by providing information and support during and after a cancer diagnosis; by finding cures through investment in groundbreaking breast cancer research and by fighting back by encouraging lawmakers to pass laws to defeat cancer and by rallying communities worldwide to join the fight. Join us for our local Making Strides Against Breast Cancer event on Saturday, October 17, 2015 at City Island in Harrisburg, PA. For more information about the event, visit www.makingstrideswalk.org/harrisburg.
******************************************************************************************************
APPLE SUBARU GIVES AWAY $5,000 TO LOCAL SUMMER CAMP PROGRAMS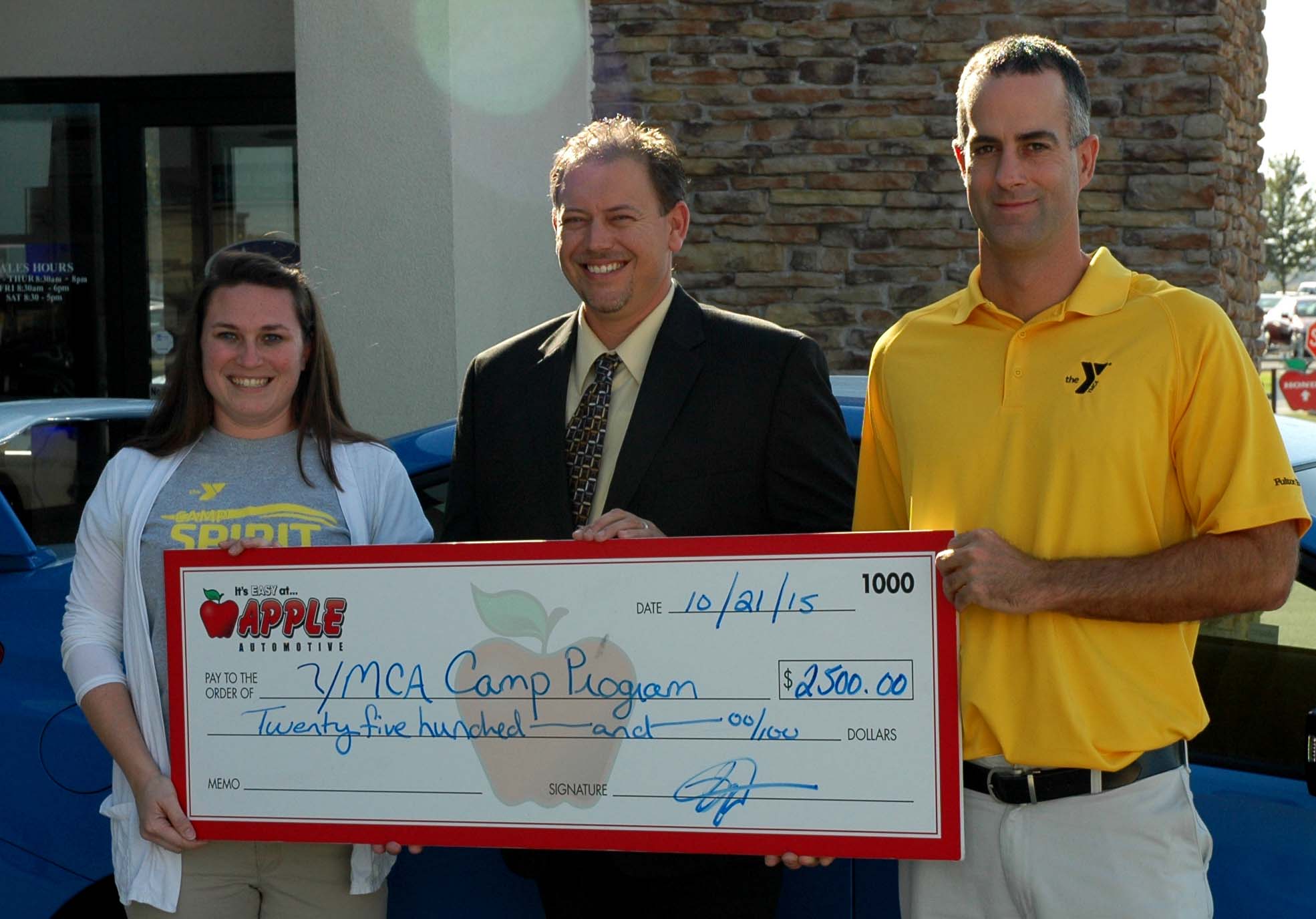 (York PA) - On Wednesday October 21st, Apple Subaru's General Manager, Rob Dell, presented the York YMCA and York Rescue Mission's Lighthouse summer camps each a check for $2,500 to be used for their 2016 camp programs.
This investment in our local youth was part of Apple Subaru's three-month Apple Subaru Summer Camp program to support the YMCA and Lighthouse Summer Camp.  The dealership made a donation for every vehicle sold at Apple Subaru between June and August 2015. 
The YMCA Summer Camp keeps campers mentally sharp during the summer break.  For 11 weeks, children are bussed to one of several day camps to enjoy arts, archery, swimming, science, and team building activities.  Field trips are encouraged, but this year, only one field trip was available due to lack of funding.  For more information, visit www.yorkcoymca.org/Pages/Summer-Camps.aspx.
The Lighthouse Youth Center Summer Camp's five-week program provides field trips to local parks, museums, swimming and other locations for local children.  For more information, visit www.yorkrescuemission.org/index.php?pID=12.
Apple Subaru is a member of the Apple Automotive Family and York County's premier authorized Subaru sales and service dealership. For more information, visit www.applesubaru.com.  
******************************************************************************************************
Dallastown Turf Madness
Jesse,
We would like to thank you and Apple Subaru for continuing to give back to the community.  By sponsoring the 2015 Turf Madness event, you have helped raise approximately $21,000 that benefit over 6,000 children and families locally. 
The Dallastown Area Educational Foundation hosted Turf Madness on Saturday, April 18th, from 7:00 p.m. to 11:00 p.m. at Heritage Hills Athletic Club, 2810 East Prospect Road, York, PA.  
An age 21 and over event, this fundraiser supports the DAEF Turf Project at the Wildcat Stadium. The cost is $50 per person and includes a tailgate menu and cash bar; a 50/50 raffle; a silent auction and live auction; and games, including a corn hole tournament.
Photos from the Event:

Heritage Hills Golf Resort Facebook Page, Turf Madness Event
https://www.facebook.com/HeritageHills/photos_stream
Thank you for making a difference!
Sincerely,
Dallastown Area Educational Foundation & Heritage Hospitality
***********************************************************************************
York Little League
Apple Subaru played an integral part in helping York Little League get the season under way.  Their donation helped the league with buying new equipment, chemicals for field maintenance, and umpire fees.  Small, Non-profit organizations like little league could not provide the player experience it does without the help of organizations like Apple Subaru.
                -Tom Vranich trv103@gmail.com
YCAC
"The Share the Love Event is so appropriately named.  Sharing the Love is exactly what Apple Subaru did when it agreed to support the York County Children's Advocacy Center.  Child Abuse is a tough subject and unfortunately one that many do not want to even discuss.  Apple Subaru showed that it cared about the children in York County and that abused children deserve an opportunity for a brighter future.  Thank You So Much Apple Subaru!"
                   - Bill Greenawalt, Board Member
 "This amazing gift from Subaru Share the Love could not have come at a better time!  Since January of 2015 our referrals of abused children have increased by 30% and we are stretching all of our resources to make sure that we are able to serve kids who need us.  We are so amazed by Subaru of America, and our wonderful local Apple Subaru dealer for their incredible generosity and commitment to helping such vulnerable children in our community.  We can't thank you enough for sharing the love in York PA!"
                    - Deb Harrison, Director YCAC