The Subaru STARLINK system is an advanced technology that helps keep you and your car safe, provides integrated multimedia infotainment, and allows you to remotely control your car. STARLINK comprises a range of services, including Automatic Collision Notification, Enhanced Roadside Assistance, Stolen Vehicle Recovery, and Remote Services. The bells and whistles it provides are so numerous as to be mind-boggling, from allowing you to text while driving to booking a hotel.
If you were getting just the infotainment or safety features alone, it'd be worth considering, but the full combination of integrated communicative technologies makes it a great addition to your Subaru. The team at Apple Subaru in York, Pennsylvania, has provided this overview so you can check out all the features that make STARLINK more than just an app.
STARLINK: For Greater Control Over Your Vehicle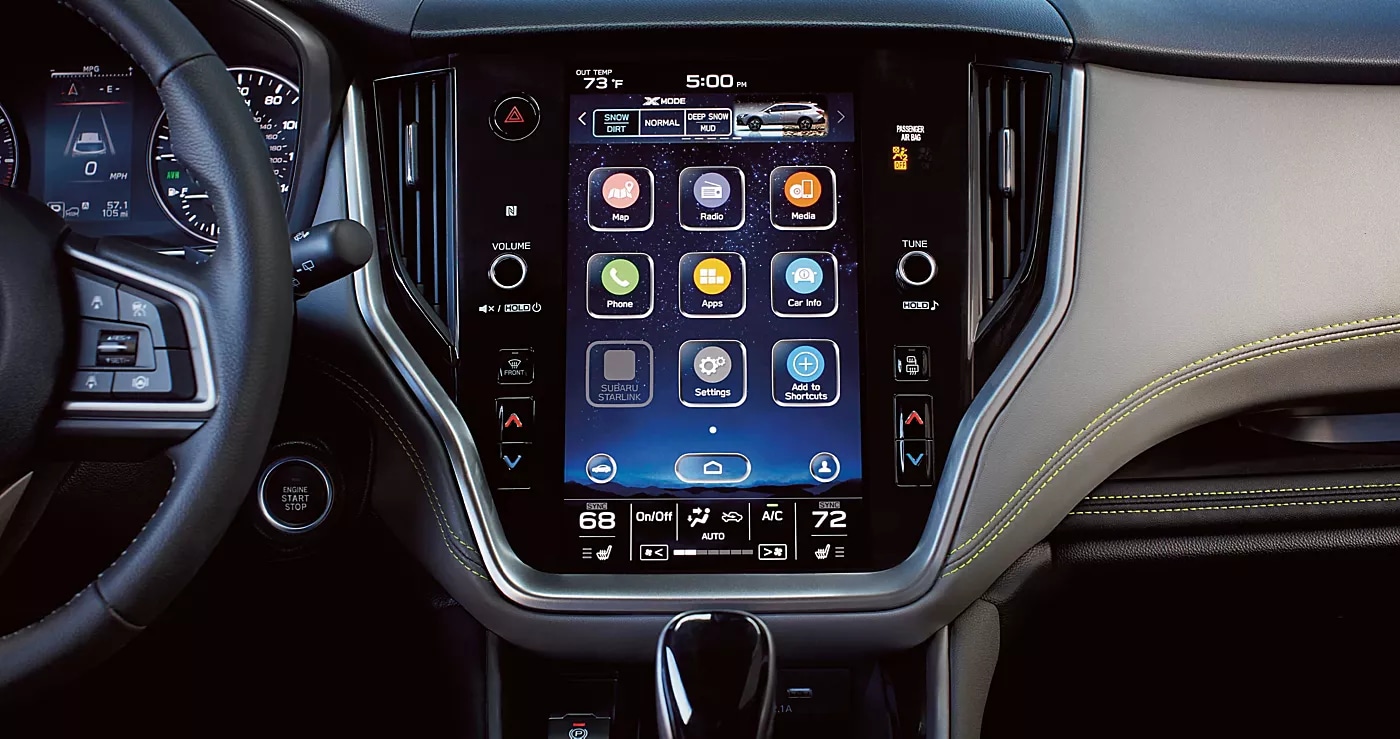 For starters, the STARLINK app gives you greater control over your vehicle even when you're not in it. Remote Engine Start with Climate Control gives you the convenience of being able to start your vehicle and adjust the temperature with the MySubaru app. This means that you can make sure that the car is warm or cool enough before you even start it, avoiding those uncomfortable minutes while you wait for the environment to adjust.
STARLINK gives you control over what your vehicle can or cannot do without you. Boundary alerts let you draw a square or a circle on a map to indicate areas where you don't allow your Subaru to enter or leave. You can also set speed limits and curfew limits, which allow you to specify periods when you don't want anyone driving your Subaru. You'll receive a notification if anyone triggers these alerts. This is perfect if you're lending your vehicle, helping someone learn to drive, or just want to make sure that no one drives it without your permission.
Multimedia Features
STARLINK also makes it a relatively straightforward process to connect with your phone and access a range of information and entertainment apps with a safe, hands-free system. The infotainment available includes Apple CarPlay, Android Auto, and Pandora, which makes it easier for you to play whatever entertainment you choose in your Subaru. STARLINK Concierge is a real perk, offering real-time assistance on a drive. It helps you find points of interest, schedule service appointments at a Subaru retailer, and even reserve hotels and event tickets — all while you're driving.
Multimedia links also allow you to send texts, make calls, and receive messages without lifting a finger, which helps keep you safe while making sure you're connected. The voice-control feature allows you to effortlessly open apps and control the internal climate without needing to take your hands off the wheel. The high-resolution navigation system also comes with a touch screen that allows you to punch in the information without needing any special lighting and allows for all the convenience of the technology with none of the fuss.
Safety Features
Perhaps the most important STARLINK features are those that relate to safety. Automatic Collision Notification means that a STARLINK customer care advisor will communicate with you and alert the appropriate first responder in the event of a collision. The Enhanced Roadside Assistance feature sends non-emergency roadside assistance to your GPS location if you press the blue "i" button on the overhead console. The SOS button on this console can help you contact a STARLINK customer care advisor from any part of the U.S. Essentially, this feature means you have any kind of help at the touch of a button.
If something triggers your vehicle's security alarm, STARLINK will notify you where and when this took place. If you're unlucky enough to have your vehicle stolen, STARLINK customer care advisors will work with the police to help you recover your vehicle from any part of the U.S.
You'll also have the option of the Stolen Vehicle Recovery service, which means that local authorities can request to immobilize the vehicle so that no one will be able to start your Subaru once it's switched off. Additionally, you'll be able to apply the remote lock, remote horn and lights, and remote vehicle locator to help find the vehicle.
The safety features extend to helping you with maintenance. The STARLINK system can also send you a monthly email that gives you a diagnostic report on your vehicle. This can include elements such as the odometer, driving range, tire pressure, and general vehicle health. Similarly, if you get a check engine or any other warning light on your Subaru, you'll also get a notification by email or text that'll give you information on the problem and allow you to schedule a service or repair.
If the vehicle needs a service, you'll be notified, and it'll even inform you of availabilities at your preferred service center. This allows you to keep up to date with the status of your vehicle, and if there are some areas that require maintenance, you'll receive an email that helps ensure that your Subaru receives the care it needs.
STARLINK Packages
There are a range of packages that you can apply that'll help you with whichever Subaru you have, though this depends on what you purchase. For most trims, you'll receive the free 1-year trial if you're a new Subaru or a certified pre-owned Subaru owner. After the trial, the subscription costs $99 a year. For some trims, you may find that certain features are unavailable, so it's always important to check what package is available to be sure.
For those vehicles that are not new or certified pre-owned, you'll be able to receive a package for $49 for the first year and $149 for each subsequent year. Given the range of features that STARLINK offers, it's really a steal at these prices, and if you contact Apple Subaru, you'll get expert advice on what features you might like. Why not drop us a line or drop by our dealership in York, Pennsylvania, and explore the various options? We're always happy to help.
Image via
Subaru